Whining about the Manna
Posted on October 10, 2018 by America's Keswick in Victory Call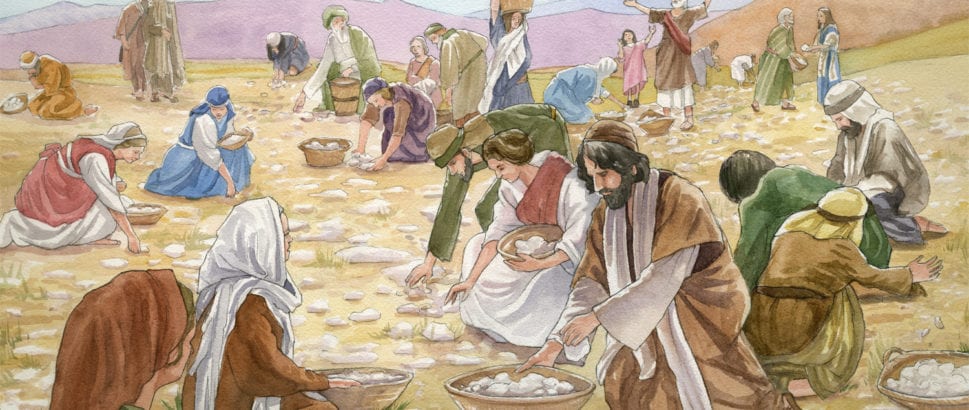 …And the people of Israel also wept again and said, "Oh that we had meat to eat! We remember the fish we ate in Egypt that cost nothing, the cucumbers, the melons, the leeks, the onions, and the garlic. But now our strength is dried up, and there is nothing at all but this manna to look at." Numbers 11:4-6; The people of Israel ate the manna forty years, till they came to a habitable land. They ate the manna till they came to the border of the land of Canaan. Exodus 16:35
It is easy to look at the Israelites and think how foolish they were to despise the manna, the very provision God made for them. Every day, every day they had food for forty years – the day after they celebrated their first Passover in the Promise Land – the manna ceased. And the manna ceased the day after they ate of the produce of the land. And there was no longer manna for the people of Israel, but they ate of the fruit of the land of Canaan that year. Joshua 5:12
I confess I recently realized that I have been whining about the manna God has provided me.  What is it in your life? What manna has God provided but you want more or different?  Is there anything?  When are you prone to whine or complain?
Job? Family? Church? Bank account?  Neighborhood?  Home?  Coworkers?  Car?
Three years ago I left a good, full time job and moved to North Carolina expecting to find full time employment fairly quickly.  That still has not happened.  God has made provision for our financial needs through my ongoing part time employment and for that I am thankful. But I feel like I'm biding time until God opens the door to full time employment. I find myself whining about the manna.  I know this is what God has for me right now. But to be honest I want more.
I realize I am just as foolish as the Israelites. How about you? God has made provision but we whine because we want more.
How do we turn our whining into gratitude?
Check OUR REPENTANCE: Our whining is against God ultimately despising His provision for us. …And Moses said, "When the Lord gives you in the evening meat to eat and in the morning bread to the full, because the Lord has heard your grumbling that you grumble against him—what are we? Your grumbling is not against us but against the Lord." Ex 16:8-9
Check OUR WORDS: our words come back to our own ears first, multiplying a complaint's destruction.  How great a forest is set ablaze by such a small fire! 6 And the tongue is a fire, a world of unrighteousness. The tongue is set among our members, staining the whole body, setting on fire the entire course of life… James 3:5-6
Check OUR HEARTS: What are we believing in our hearts? Are we rehearsing our feelings or God's truth?  The good person out of the good treasure of his heart produces good, and the evil person out of his evil treasure produces evil, for out of the abundance of the heart his mouth Luke 6:45
Check OUR GRATITUDE: Are we offering a sacrifice of thanksgiving?  Earnestly search for the many things for which we can be thankful and praise God for the provision. It is amazing how thanksgiving and praise can completely change our perspective and countenance. The one who offers thanksgiving as his sacrifice glorifies me; to one who orders his way rightly I will show the salvation of God!" Psalm 50:23
Lord, May the truth of the Gospel overwhelm my soul.
Blessings, Diane
Diane Hunt serves on the board of America's Keswick and provides ministry support from her home in North Carolina. She is also a biblical counselor and women's event speaker. For more information about having Diane speak at your next event please contact her at dhunt@americaskeswick.org.
The Daily Bible Reading: Matthew 5-7 | You can download our 2018 Daily Bible Reading Plan by clicking here
Daily Quote: "Nothing cures ingratitude as quickly as a good memory." – Woodrow Kroll
This Week's Verse to Memorize:For I know the thoughts that I think toward you, says the Lord, thoughts of peace and not of evil, to give you a future and a hope. Jeremiah 29:11