Family Retreats, Vacations & Reunions in NJ
at America's Keswick
Are you looking for a place to host your church's next family retreat? Or perhaps, you're organizing your next family reunion or simply a Christian family vacation. Located in central NJ near the shore, experience America's Keswick Christian Conference and Retreat Center! For over 80 years, America's Keswick has been blessed to serve as the family retreat center and conference venue of choice in the tri-state area (NJ, NY, CT).
From small to large group gatherings, we have options to make your getaway an experience to cherish. America's Keswick has become a tradition for many, and can be a great new find for you and your group!
Need some help with planning? Check out our retreat planning blog for ideas and tips! Or, feel free to contact us… we'd be glad to help!
Conveniently located ~1 hour east of Philadelphia and ~1.5 hours south of New York City.
It's also an easy drive from the Pocono Mountains, Long Island, Connecticut, northern Delaware, Baltimore, Washington D.C., eastern Maryland, and Lancaster, PA.
Explore Keswick for Family Getaways
Learn More About Your Retreat Options
Our retreat specialists have planned hundreds of events and are here to help you make your group retreat the best experience possible from start to finish. Request a Retreat Information Packet to learn more about our retreat options or submit an inquiry and get started with planning your group retreat today.
Custom Family Getaway Options & Amenities

We offer multiple lodging options, including rooms with private baths. We have ground floor rooms with wheelchair accessibility and wireless internet access if free across the entire campus. We also have campsites available.

We offer a full range of activities including Indoor Pool, Sports Courts, Outdoor Water Activities, Outdoor Sports, Hot tub, Sauna, Fitness Room, Playground, Hiking Trails & much, much more! Plus, we're only 30 minutes from the shore!

Enjoy our delicious buffets, family-style meals, and attentive service. Your group will have tables already assigned to them, no need to search for a place to sit at each meal. Please don't hesitate to make us aware of any special dietary needs!

Set the stage for ministry! A conference room is included with every retreat for the duration of your stay. We have audio-visual equipment available to rent and will layout the room to your needs. Additional meeting space is also available to rent.

Our retreat rates vary depending on the needs of your group. We have options for every budget with special rates for larger groups and during different seasons with savings of up to 50%.

Our guest services team will help you with planning your retreat, including booking, planning meals, assigning rooms, reserving activities, meeting room layout, & more. Our goal is to make your event a success!
Schedule a Tour of Our Campus
If you think America's Keswick may be the retreat center for your next event, we're happy to provide you with a tour of our campus and facilities. Schedule a tour to learn more.
This is the best retreat place that I have ever been looking for. It is very clean everywhere in the center. It is very quiet and peaceful place for you to sit down to think about how great is our Lord. Also it is a fun place to play with family and friends with different kinds of sports. I highly recommend this place for any Christian church retreat or just family camp. 👍👌🙏😇

Xiaodong Chen
12:55 16 Aug 22
doing the four month program, and also the three month discipleship program.
conference season is a blast hearing the word from all the different speakers.
family week,TNT,circle of praise but most important besides the holy spirit of god always beong present , the fellowship and brother hood.
Americas keswick is a very special place it's full of love and unity. Kareem Holley
06:38 20 Aug 19
Amazing facility! Best family vacation at a camp ground. Come for a summer conference week.

Joseph Ciasulli
15:09 21 Jul 21
its a great place me and my family loves it here😍maybe see u next year Chrissy Nd Hannah DeVera
05:22 15 Aug 18
This is a place where people come and are truly blessed to experience God like never before. The campus is beautiful. The staff is loving and always willing to go the extra mile to make the stay a joyful memory. It is a blessing to bring our family here! Disconnect, unplug, create memories, and be still and know that Jesus is God . God truly does speak to hearts and transform lives at America's Keswick.

Troy Kraszewski
17:07 16 Jul 21
America's Keswick is a beautiful scenic spot to relax, renew and reconnect with the Lord. I've been going there for the past 20 years to the Womens (Girls) Weekend third weekend in October. It is an annual destination for my family and friends. The staff at Americas Keswick are so lovely. LOVE THE THRIFT SHOP!!!
The FOOD IS FABULOUS!!! Shari Lynn Gallett Franco
21:52 23 Oct 17
Keswick has been a special part of my life since I was a very young child. It's a great place for a quiet getaway, a family vacation, or a church retreat. With a variety of day events and multi-day conferences, there's something for everyone. Keswick has gifted speakers, great musicians, comfortable accommodations, delicious meals, and plenty of activities in a beautiful and peaceful setting. It's definitely a place where God speaks to hearts and transforms lives!

Susan Mahoney
23:08 19 Jul 21
Took our youth ministry there this summer! We all had a great time, the entire staff was professional, efficient, and accommodating. All of our kids enjoyed it, plenty of activities, great food, great facilities! According to the teens, even the wifi was good! Lol. We highly recommend! Ziza Da Paz
12:12 29 Sep 17
Hi there...I fully recommend America's Keswick for any and all of your family retreat needs. This facility offers an amazing array of activities, amenities and festivities. The speakers are top notch and the grounds are second to none. This is truly a special place where God speaks to hearts and transforms lives...my heart and my life are among so many who can testify to that truth. Praise God for America's Keswick!

James Serpico
01:59 24 Jul 21
We were blessed by our church to come here for the couples retreat. My wife and I are having a great time in the Lord. America's KESWICK retreats will most definitely become part our family tradition too. David Millan
22:44 11 Feb 17
I spent my last weekend with my church and my 2 kids. This place is amazing!!! The place is beautiful, the people working there are just amazing, speaker was beyond my expectations. I can't wait to come back! Americas Keswick is a place of healing and restoration it changed our lives our marriage and our family . Robbin Weinhardt
00:42 15 Feb 16
This is a Place where Jesus does speak to our hearts, and the fellowship is Awesome, this has Always been the Lords Family, I have been Blessed to be a part of the Family of God!! We have been coming to America's Keswick . Started in 1985, Praise the Lord!!! , it is our second home , my husband John went home to be with the Lord Augest 21 ,2014, I still come to Keswick, It is my family, and I Love you ALL, Praise the Lord for you ALL!!!! Barbara Jane McLaughlin
18:29 30 Jan 16
I've had many friends and family come here. My father volunteers here. It DOES CHANGE LIVES. When I walk on the property you can just...feel the presence of God. I love it! Sarah Martin
22:46 29 Nov 15
Looking for More Information on Your Retreat Options?
Our retreat specialists have planned hundreds of events and are here to help you make your group retreat the best experience possible from start to finish. Request a Retreat Information Packet to learn more about our retreat options or submit an inquiry and get started with planning your group retreat today.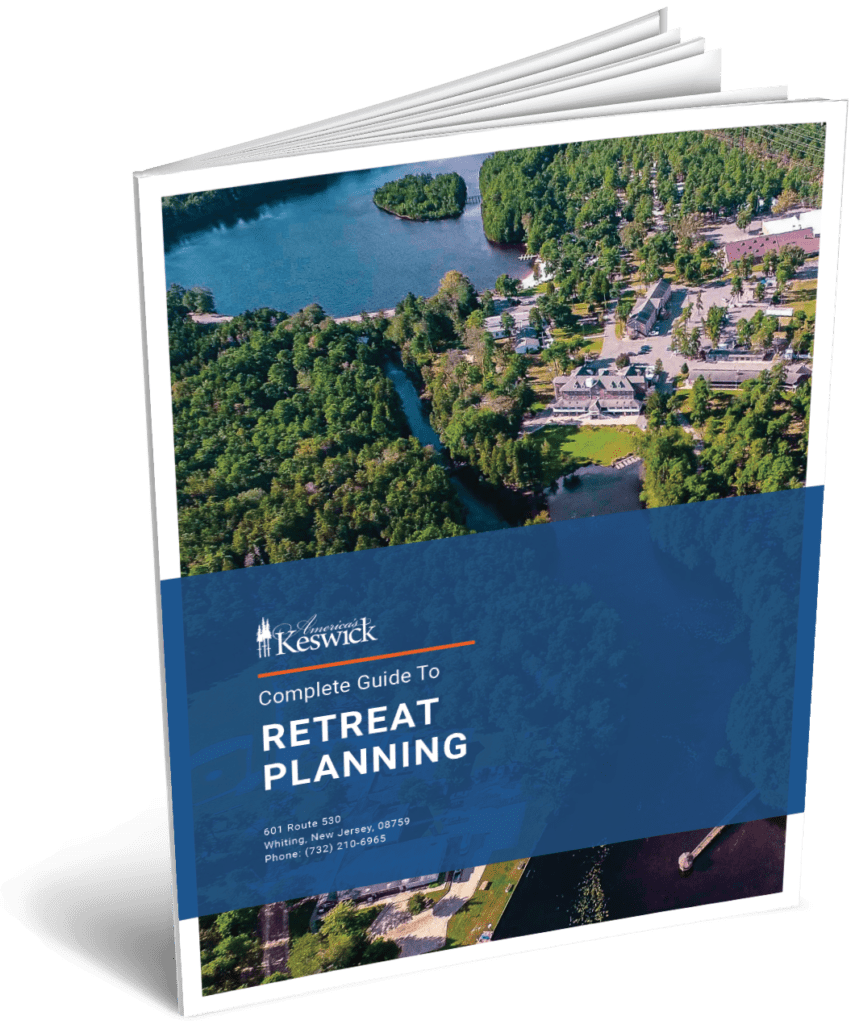 Free eBook
Are you planning a retreat?
Get our free Complete Guide to Retreat Planning. This complete guide will help make your retreat planning experience easier than ever before.
Frequently Asked Questions (FAQs)