Perspective
Posted on July 25, 2018 by America's Keswick in Victory Call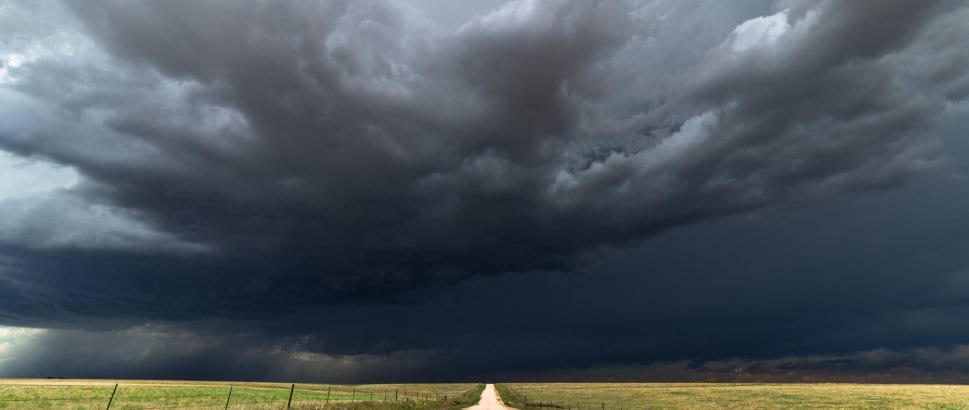 If then you have been raised with Christ, seek the things that are above, where Christ is, seated at the right hand of God. Set your minds on things that are above, not on things that are on earth. For you have died, and your life is hidden with Christ in God. Colossians 3:1-3
My husband and I have been reading "The Red Sea Rules" on our road trips (published by the Billy Graham Evangelistic Association[i]).  On our most recent drive my husband read:
     "Not long ago, I awoke early in a hotel in another city and turned on the weather report. I was returning home from a speaking engagement, and the forecast was troubling. Violent storms. Strong winds. Lightning. Arriving at the airport, I glanced at the menacing sky with foreboding. The clouds were iron gray and angry.
We took off with a sharp ascent, and the plane pierced the clouds leveled off at a high altitude above them.  The scene was breathtaking. Bright and majestic and peaceful and glorious – mountains of sunlit clouds rising and falling below me as far as eye could see. They were the same clouds, but my perspective was different. Storms, I realized, look different from the upper side."[ii]
Immediately, my mind went to a similar experience I had years ago.  I still remember the stormy skies as we took off and the burst of sunshine when we crested the tops of the clouds. The sight not only took my breath away but oddly enough, I was surprised that the sun was still shining brightly.
When my feet were firmly planted on earth, the dark rain clouds hovered ominously.  That's all I could see. The storm was my view of reality.  When the plane rose above the clouds, instantly my perspective changed.  Had reality changed?  No. Had the clouds disappeared? No. The only thing that changed was my perspective.  I love the last line of the Morgan quote, "Storms, I realized, look different from the upper side."
Today as I sit and write this Victory Call, here in North Carolina, the sky is overcast not quite brewing a storm… yet.  As I look out my window – the overcast sky could be the totality of my perspective or I can call to mind that above the clouds, the sun still shines. I really can imagine the brightness of the sun illuminating the upper side of the clouds.  It changes my perspective.
The storms of life are very much like this.  Often, as storm clouds swirl around us, it may be all we see. Our perspective is STORM.  It's what we can see. But it's what we can't see that changes our perspective.
To see the upper side of the storm clouds, in our mind's eye, requires FAITH in the One True God and it will change our perspective. We may have to do it over and over and over again. It's true. Just because we can't see the sun, doesn't mean it no longer shines. It is reality. In life's storms when we can't see or feel God, He is still there.  It is reality.
You are a hiding place for me; you preserve me from trouble; you surround me with shouts of deliverance. Psalm 32:7 …call upon me in the day of trouble; I will deliver you, and you shall glorify me." Psalm 50:15 God is our refuge and strength, a very present help in trouble. Psalm 46:1
Lord, give me Your eyes to see, Your heart to love and Your mind to think.  Teach me, as far as my limited understanding will allow, to see things from Your perspective.
Blessings,
Diane
By the way girls, we'd love to hear from you. Post a comment or shoot us an email.  Thank you for those who have sent us comments, encouragements and even sometimes corrections.  We love it all.
Diane Hunt serves part-time on the staff of America's Keswick providing ministry support from her home in North Carolina. She is also a biblical counselor and women's event speaker. For more information about having Diane speak at your next event please contact her at dhunt@americaskeswick.org.
The Daily Bible Reading: Isaiah 37-39  , Psalm 76 |You can download our 2018 Daily Bible Reading Plan by clicking here
Daily Quote: "God desires to show His power through your storm, but is your lack of faith keeping Him from doing so? God brings storms into your life to show His strength and to gain glory from His providence." – Paul Chappell
This Week's Verse to Memorize:
The hope of the righteous will be gladness, But the expectation of the wicked will perish. Proverbs 10:28
[i] Robert J. Morgan. The Red Sea Rules. Bill Graham Evangelistic Association and Thomas Nelson Publishers. 2001.
[ii] IBID