Hide God's Word in Your Heart
Posted on August 27, 2018 by America's Keswick in Victory Call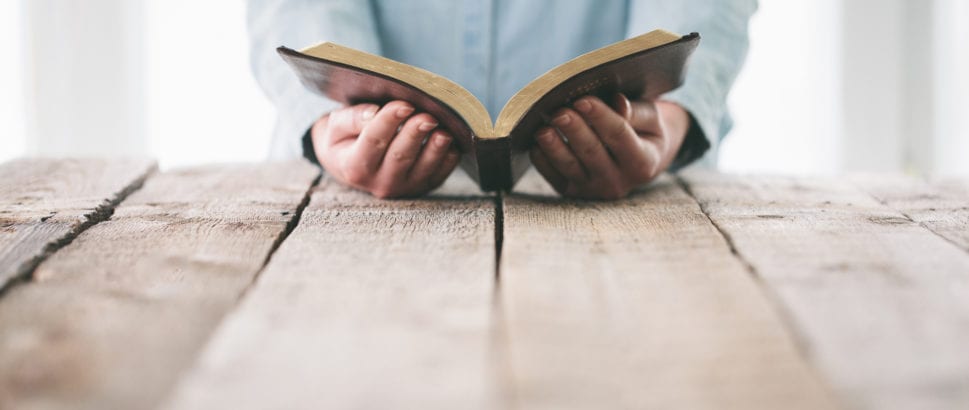 "The Lord himself goes before you and will be with you; he will never leave you nor forsake you.  Do not be afraid; do not be discouraged." (Deuteronomy 31:8)
These words were given by Moses to Joshua.  Moses instructs him in front of all Israel to lead the people into the Promised Land.  His words are from the Lord to Joshua and the people, but they are also promises for us today. Memorize His Word!
Other verses that describe the Lord are: Psalm 23:1 – He is our Shepherd; Luke 2:11 – He is a Savior, my Savior since accepting Christ into my heart at age nine.
This verse in Deuteronomy begins with the promise, "I'll go before you."  He is actually ahead of you in every situation and trial.  He has been there for you in the past, is with you in the present, and also promises to go before you in the future.
God has given me a husband who cared for me through 37 years of an illness.  However, one particular night he was very sick, himself.  I called a neighbor and we rode behind the ambulance to the hospital.  I prayed in fear, and the same words God gave to Joshua became so clear to me.  The Lord was ahead of the ambulance!  He was before us all at the hospital!  He would never fail us or forsake us!  These were His promises.  The Lord gave peace to my heart and quieted my fearful thoughts.
I knew He was my Savior and my husband's Savior, too.  Matthew 28:20: "I am with you always," and He never leaves us alone – Psalm 9:10.
The closing words, "Do not be afraid; do not be discouraged," is my favorite part.  I've had at least ten hospital stays, my husband two or three, and our three sons and their families at least a half dozen.  Fear is something I often battle, but I've learned He gave perfect love at the cross, and perfect love casts out fear.
Deuteronomy 31:8 is repeated at the little chapel at America's KESWICK Colony of Mercy at the conclusion of every service.  Today, my husband is one of the chaplains.  God went ahead of him, healed and brought him back to serve Him and help lead me in addiction to find new life in Christ.
Dorothy Noel
From Real Victory for Real Life Volume 1
Written by Dottie Noel:Dottie Noel was the wife of former Chaplain Jack Noel.  She was a wife, mom, and "Mommles" to 7 grandchildren.  Dottie went to be with the Lord in 2011.
The Daily Bible Reading: Ezekiel 1-4| You can download our 2018 Daily Bible Reading Plan by clicking here
Daily Quote: "He that fears not the future may enjoy the present." – Thomas Fuller
This Week's Verse to Memorize:So shall the knowledge of wisdom be to your soul; If you have found it, there is a prospect, And your hope will not be cut off.
Proverbs 24:14