The Warrior's Prayer
Posted on July 2, 2018 by America's Keswick in Freedom Fighters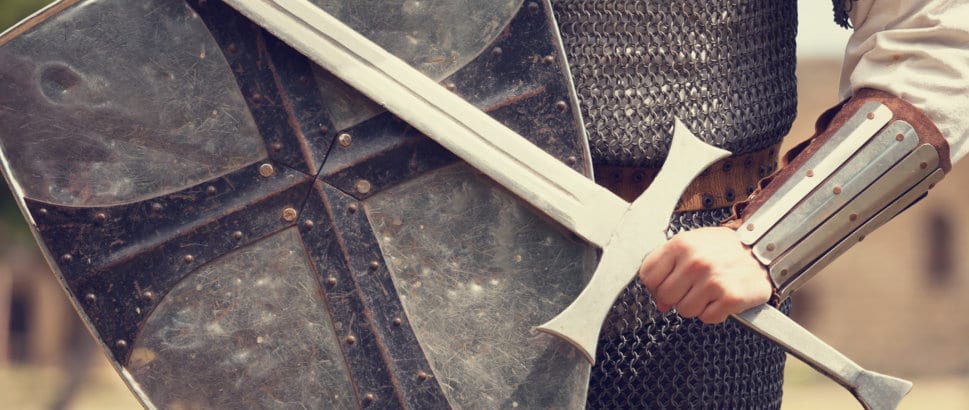 Finally, my brethren, be strong in the Lord and in the power of His might.  Put on the whole armor of God, that you may be able to stand against the wiles of the devil.  For we do not wrestle against flesh and blood, but against principalities, against powers, against the rulers of the darkness of this age, against spiritual hosts of wickedness in the heavenly places. Therefore, take up the whole armor of God, that you may be able to withstand in the evil day, and having done all, to stand.

Stand therefore, having girded your waist with truth, having put on the breastplate of righteousness, and having shod your feet with the preparation of the gospel of peace; above all, taking the shield of faith with which you will be able to quench all the fiery darts of the wicked one.  And take the helmet of salvation, and the sword of the Spirit, which is the word of God; praying always with all prayer and supplication in the Spirit, being watchful to this end with all perseverance and supplication for all the saints— Ephesians 6:10-18
If you haven't figured it out already, we are in a battle, and you my friend are called to be a warrior. God hasn't left us alone to fight this battle. Positionally speaking, the battle was ultimately won at the cross. But until we see Jesus, we are to fight the good fight of faith. He has provided for us the weaponry for this battle.
Dr. David Jeremiah wrote this powerful Warrior's Prayer based on Ephesians 6:10:18:
Heavenly Father, Your warrior prepares for battle. Today I claim victory over Satan by putting on the whole armor of God!
I put on the girdle of TRUTH! May I stand firm in the truth of Your Word so I will not be a victim of Satan's lies.
I put on the breastplate of RIGHTEOUSNESS! May it guard my heart from evil so I will remain pure and holy, protected under the blood of Jesus Christ.
I put on the shoes of PEACE! May I stand firm in the Good News of the Gospel so Your peace will shine through me and be a light to all I encounter.
I take the shield of FAITH! May I be ready for Satan's fiery darts of doubt, denial, and deceit so I will not be vulnerable to spiritual defeat.
I put on the helmet of SALVATION! May I keep my mind focused on You so Satan will not have a stronghold on my thoughts.
I take the SWORD OF THE SPIRIT! May the two-edged sword of Your Word be ready in my hands so I can expose the tempting words of Satan.
By faith, your warrior has put on the whole armor of God! I am prepared to live this day in spiritual victory! Amen
Men, it would be good for us to pray this prayer daily. I am going to start doing it this week. Will you join me?
Overflowing and abounding in HOPE,
Bill Welte, President/CEO
America's KESWICK
Written by Bill Welte, President/CEO of America's Keswick: Bill has been married to his childhood sweetheart for 40+ years and has four married kids and 11 amazing grandkids. He loves music and is an avid reader.
The Daily Bible Reading: 2 Kings 1-4|You can download our 2018 Daily Bible Reading Plan by clicking here
THINK ABOUT THIS: Spiritual warfare is primarily fought, not in the field of apologetics, or the courtrooms of law, or the battle ground of public opinion, but in the closets of prayer (Eph. 6:18). Henry Blackaby
This Week's Verse to Memorize:
Happy is he who has the God of Jacob for his help, Whose hope is in the Lord his God, Psalm 146:5