The Idolatry of Shame
Posted on October 10, 2018 by America's Keswick in Freedom Fighters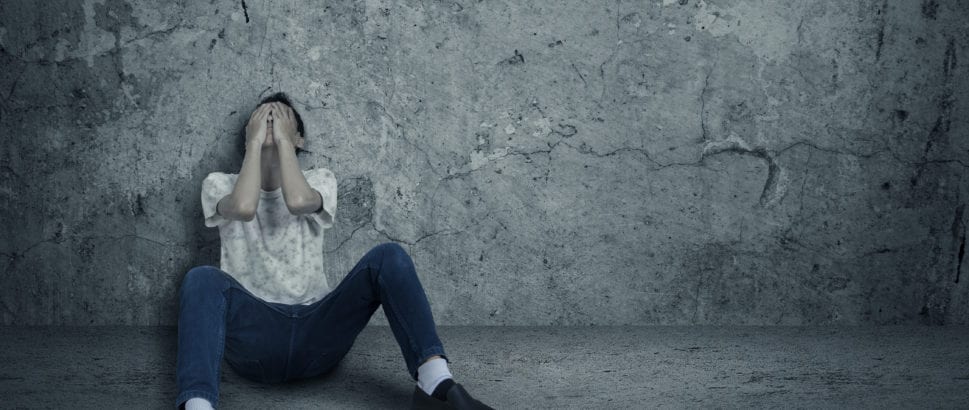 If I find in myself desires nothing in this world can satisfy, I can only conclude that I was not made for here. If the flesh that I fight is at best only light and momentary, then of course I'll feel nude when to where I'm destined, I'm compared. … Speak to me in the light of the dawn! Mercy comes with the morning! I will sigh and with all creation groan as I wait for Hope to come for me. Am I lost or just less found? On the straight or on the roundabout of the wrong way? Is this a soul that stirs in me, is it breaking free, wanting to come alive? Cos my comfort would prefer for me to be numb, and avoid the impending birth of who I was born to become.
~Brooke Fraser (from CS Lewis Song)

In the year that King Uzziah died I saw the Lord sitting upon a throne, high and lifted up; and the train of His robe filled the temple. Above Him stood the seraphim. Each had six wings: with two he covered his face, and with two he covered his feet, and with two he flew. And one called to another and said: "Holy, holy, holy is the LORD of hosts; the whole earth is full of His glory!" And the foundations of the thresholds shook at the voice of him who called, and the house was filled with smoke. And I said: "Woe is me! For I am lost; for I am a man of unclean lips, and I dwell in the midst of a people of unclean lips; for my eyes have seen the King, the LORD of hosts!" Then one of the seraphim flew to me, having in his hand a burning coal that he had taken with tongs from the altar. And he touched my mouth and said: "Behold, this has touched your lips; your guilt is taken away, and your sin atoned for." And I heard the voice of the Lord saying, "Whom shall I send, and who will go for Us?" Then I said, "Here I am! Send me." And He said, "Go….." 
~ The Undoing of Isaiah's Shame, in Isaiah 6
Oh beloved, it is true.
We, each and every one of us, have been born into a broken world. We are, each and every one of us, desperately in need of the Mercy of G_d. In the most ancient liturgies of the Church, the opening section starts with:
Κύριε, ἐλέησον! (Lord, have mercy!)
Χριστέ, ἐλέησον! (Christ, have mercy!)
Κύριε, ἐλέησον! (Lord, have mercy!)
It is the great stuttering of our souls as we enter into worship. We know that we are wrecked, and wretched apart from Him. We have a grievous wound for which there is no healing – Apart from the compassionate work of our King. Isaiah felt the strength of this wound, as he was weakened to near heart failure at seeing the throne room of The King of The Universe.
But, it is here that many of us who follow The Lord Jesus Christ, totally begin to miss the rest of the story. The ancient liturgies have a powerful reminder of His answer to our pleas for mercy:
Christ has died, Christ is risen, Christ will come again.
Dying You destroyed our death, rising You restored our life.
Lord Jesus, come in glory.
When we eat this bread and drink this cup, we proclaim your death,
Lord Jesus, until You come in glory.
Lord, by Your cross and resurrection, You have set us free.
You are the Saviour of the world!
Can we see it?
As Isaiah had the fire of G_d's purity applied to his lips, his sins were burned away by the only One with the power to do it. This picture in the Old Testament is a shadow of what was to come when G_d became a Man, and became The Way back home to The Father.
His blood has touched our lips, our sins are atoned for. We have partaken of the Very Bread of Life in calling out to Life Himself. Jesus has not just used a medium of His power (like a coal carrying the fire of G_d). Jesus, Very G_d and Very Man, has given us Himself. No media. No separation. No transmission of goodness.
Rather, He has given us Goodness Itself. He has not just imparted or imputed Mercy and Grace to us. He has give us Himself, the Very Fountainhead of the Mercy and Grace we so desperately need. We have, as so many of the ancient hymns have said: been washed in His Blood.
Beloved, this must make a change in us. The Bible was not written merely to inform or inspire. The Word of G_d is rather a means He uses to transform us. And this same Word will indeed make us very aware of the problem of our sin. However, if we don't allow Him to transform us through His Work and His Word, we can easily fall into a selfish idolatry, where all we do is focus on ourselves and our failure. Said more simply: we can worship ourselves in our self-abasement. It is a terrible and insidious idolatry.
However, if we read all the redemptive stories throughout Scripture. We see something very clearly. It is when the sinner (read: each and every one of us) looks away from our wretchedness, allows the Light of His Presence to shine on our fallen estate, and asks for help – that this help does come!
And once it comes, there is no time for shame. There is only time for communion and communication with Him, as He prepares us for something completely other than we thought at first. He cleans us up, not to just make us feel better. He cleanses us to set us free.
Free for what? To GO! To go and share this same mercy with others.
So, are you feeling the weight of your sin? Good. But, focus not on the foul thing! Focus on the One Who has already paid for it with the most precious material in the Universe: His Very Blood. Drink this in. Gnaw on the reality of He Himself being the One Who has so mightily saved you. LOOK AT HIM! Worship Him, and not your shame.
Tonight is your night. Time to come undone from our own little lives and put our eyes on The Almighty. We have already asked Him for Mercy. His Answer is awaiting your attention.
Written by Makala Doulos: Makala Doulos is a child of G_d, a husband to his wife, a father to his children, and a teacher to his students. But mostly, he is a prisoner set free by Jesus. Love has invaded his life, crushed it, and made it new. Now, G_d's Love is what constrains him to live in full surrender to the freedom The Father and Son and Holy Spirit have bought for us all. Grace and Peace to you all.
The Daily Bible Reading: Matthew 5-7 | You can download our 2018 Daily Bible Reading Plan by clicking here
Daily Quote:"It is a fact that the Lord Jesus has already died for you. It is also a fact that you have already died with the Lord Jesus. If you do not believe in your death with Christ, you will not be able to receive the effectiveness of death with Him – freedom from sin." ~ Watchman Nee
This Week's Verse to Memorize:For I know the thoughts that I think toward you, says the Lord, thoughts of peace and not of evil, to give you a future and a hope. Jeremiah 29:11