He Finished Well
Posted on March 5, 2018 by Graeme Wilson in Freedom Fighters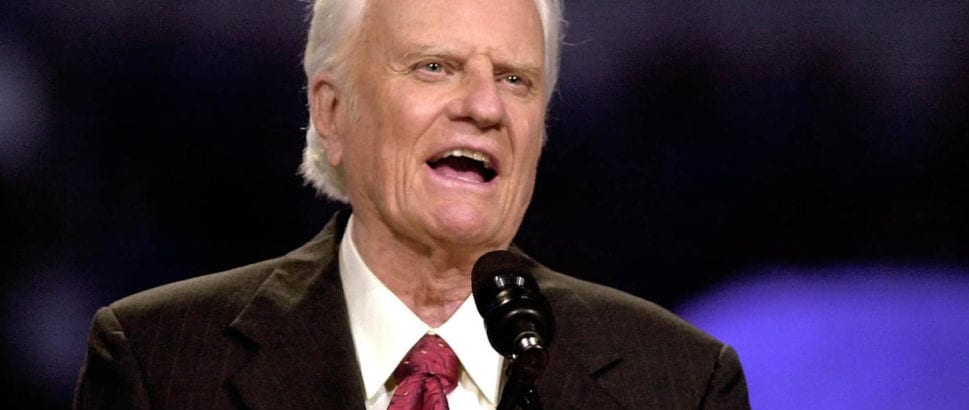 "But none of these things move me; nor do I count my life dear to myself, so that I may finish my race with joy and the ministry which I received from the Lord Jesus, to testify to the gospel of the grace of God." Acts 20:24
It is almost hard to imagine our world without Dr. Billy Graham. He almost made it to his 100th birthday – but God had other plans.
Through the years he has impacted this world with his life and ministry. His preaching and passion for sharing the gospel took him to countries around the globe, some that were even hostile to the gospel.
He has sat with Presidents and world leaders, many who have referred to him as their Pastor and friend. When there was international crisis abroad and tragedy at home, Dr. Graham was often called on for his wisdom, insight, and counsel. This generation will not forget his presence right after the horrific events of 911 as he climbed the steps in the National Cathedral to call the nation to prayer and repentance as a nation.
His life was not without criticism, but his life and ministry were one of integrity on every level. While some might have questioned his inclusion of men from different denominations sitting on his platform at a crusade or questioned his gospel invitations, one cannot certainly criticize his passion to share the Gospel at home and abroad and his commitment to preach the inspired Word of God. The Billy Graham Evangelistic Association has been impeccable as an organization and has operated with transparency and integrity especially in the area of finances.
He developed a team of leaders that served together for decades, including his platform team comprised of Cliff Barrows and George Beverly Shea. There were hundreds of other leaders that he developed that were not necessarily recognized by the world, but who had a huge impact in fulfilling Dr. Graham's vision to reach the world with the gospel.
One of the interviews played during the week of his death was with Cliff Barrows. During the London crusades there was criticism that people were coming forward at the end of the message because the choir's singing "Just As I Am" was an emotional manipulation of the crowd. Dr. Graham decided not to have music during the invitation. Cliff shared that at the moment the gospel was shared there was a holy hush over the arena. No one moved. But then there was the squeak of the first seat, then the next, and thousands came forward to trust Christ as their Savior that first night. In fact, the crusade was only to last for a week but ended up lasting for several weeks and night after night when the invitation was given people came forward.
Finally, the press said, "Please bring back 'Just As I Am' as the silence is deafening."
Dr. Billy Graham was laid to rest in a beautiful prayer garden next to the love of his life, Ruth Bell Graham. One of my favorite Graham quotes is this one: "Someday you will read or hear that Billy Graham is dead. Don't you believe a word of it. I shall be more alive than I am now. I will just have changed my address. I will have gone on into the presence of God."
As I have reflected on his life, Acts 20:24 seems to describe his life: But none of these things move me; nor do I count my life dear to myself, so that I may finish my race with joy and the ministry which I received from the Lord Jesus, to testify to the gospel of the grace of God. Acts 20:24
Thank you, Dr. Billy Graham for finished well. Thank you for your impact on millions who will be in heaven because you were a preacher of the gospel of the Lord Jesus Christ.
Overflowing and abounding with hope,
Bill Welte, President/CEO
America's Keswick
Written by Bill Welte, President/CEO of America's Keswick: Bill has been married to his child sweetheart for 40+ years and has four married kids and 11 amazing grand kids. He loves music and is an avid reader.
The Daily Bible Reading: Numbers 23-25| You can download our 2017 Daily Bible Reading Plan by clicking here
Think About This: "The three secrets to successful ministry are: prayer, prayer, and more prayer." — Billy Graham
This Week's Verse to Memorize:
"And now, Lord, what do I wait for? My hope is in You. Psalm 39:7