Fishing
Posted on October 30, 2018 by America's Keswick in Freedom Fighters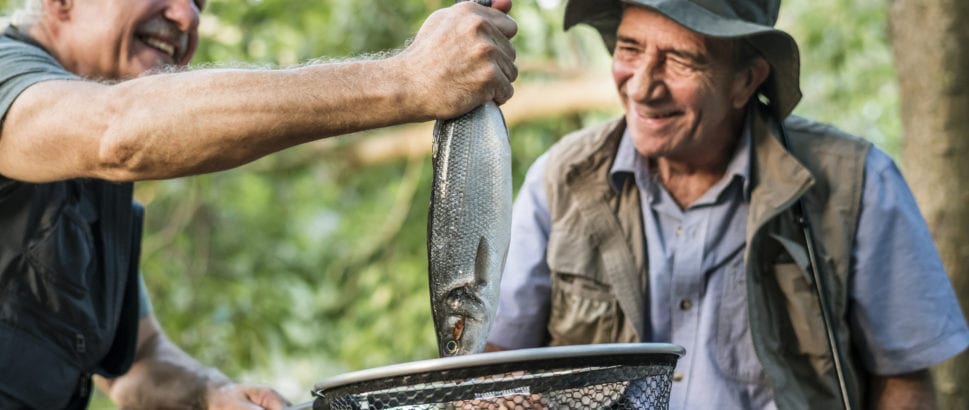 Matthew 4:19 – "As Jesus was walking by the Sea of Galilee he saw two sets of brothers mending their fishing nets. He said, 'Come follow me and I will make you fishers of men.'" And they did!
And we followers of Christ today are also called to be fishers of men.
But if we are going to catch any, we need to learn a few lessons. All professional fishermen these days will give you these instructions:
You fish for salt water fish in a totally different way than you fish for fresh water fish. For our purposes we'll settle on salt water fish.
Decide what your target fish is. There are so many varieties which must be caught in so many different ways that only if you are lucky will you catch a fish if you do not know what you are doing. You can fish for hours and watch the fish swim right past your bait if it is not what they want.
Know where the fish are. There is a vast ocean and you must know where to find the fish. Use an electronic fish-finder, a GPS, printed charts, advice from local fishermen who know the waters, etc.
Many times you need to attract the fish to your location. Use chum, cut fish, various mixtures that contain "fish food",
These are just some of the variables great fishermen use to be successful:
°Fish at the proper tide
°Fish at the proper depth
°Fish using the proper color lure based on light and darkness and/or water color
°Fresh caught bait is always better than frozen bait, and the fresher, the better.
°Fish with the proper technique…fast retrieve, slow retrieve, fish on the bottom, bounce off the bottom, fish the surface, etc.
The list could go on at great length, but I must make my point.
Who is your target audience? Old, young, black, white, Hispanic, couples, singles, etc. Each will be attracted by different "bait."
Know where your target audience is. Don't expect them to come to you; you go find them! You may need something to attract them ("chum") so that they will come to you in the first place.
The "bait" will be quite different for different "fish." Classical music, rock music, organ, drums and guitars, very rhythmic and loud, choir, praise/worship team, more formal dress, very casual dress, etc. What fits your target audience?
It is essential that you understand we are talking about sharing the whole gospel, not some watered-down version that is simply trying to put fish in the bag and then count how many.
Here's the point: do you want to catch fish? Are you willing to accept that different fish are caught in totally different ways? Is your goal to perpetuate what is most appealing to you or are you most interested in catching "fish"? Remember, your preference is not God's only method of "fishing".
Written by Rev. Neil Fitchthorn Rev. Neil Fichthorn is a seasoned conference and camping servant having served at Gull Lake Bible Conference, Sandy Cove Ministries as President, and an interim Executive Director at Pinebrook Bible Conference. He also served in church music for decades as a choir director and arranger. He has been Bill Welte's mentor and friend for over 45 years.
The Daily Bible Reading: Luke 17:11 – 18:14 | You can download our 2018 Daily Bible Reading Plan by clicking here
Daily Quote: "The charm of fishing is that it is the pursuit of what is elusive but attainable, a perpetual series of occasions of hope." – John Buchan
This Week's Verse to Memorize: It is good that one should hope and wait quietly For the salvation of the Lord. — Lamentations 3:26