There's Two Crosses
Posted on August 24, 2018 by America's Keswick in Freedom Fighters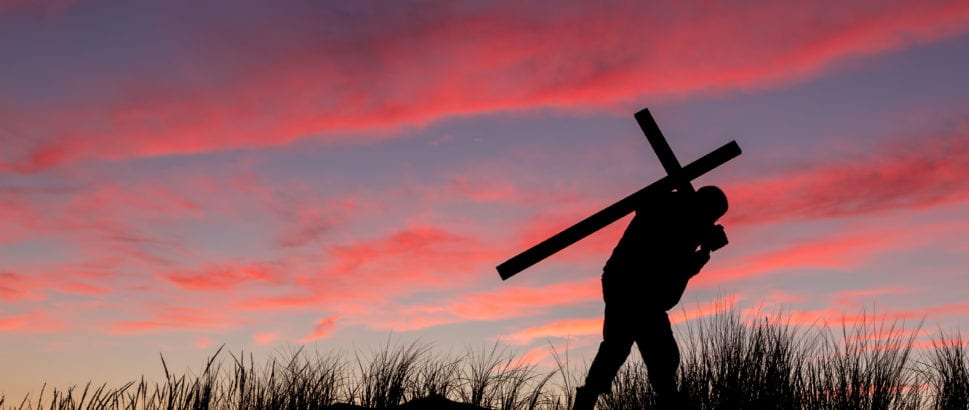 "Jesus took the blind man by the hand and led him out of the village. Then, spitting on the man's eyes, He laid his hands on him and asked, 'Can you see anything now?'" — Mark 8:23 (NLT)
Jesus Christ did nothing aimlessly. This is a crystal-clear truth that nobody can or should run away from. There was a purpose and a reason for everything He did. However, there is a moment that is recorded in Mark's Gospel that use to have me scratching my head until I heard this phrase, "Text without context is a pretext."
In the eighth chapter, starting at verse 22 we read about a blind man who needed to be touched twice by Jesus to receive his sight. At first it seems like it's gonna be Jesus just being Jesus but when the man says, "I see men, for I am seeing them like trees, walking about" Jesus laid His hands upon the man a second time, then he could see clearly. So…wasssup with that? Did Jesus mess this up the first time? Well that'll be a "NO." So, what is up with this strange miracle? Maybe we need to get back in the boat for a bit
Somewhere between Mark 8:10 and Mark 8:14, the disciples of Jesus forgot to pack a lunch for the journey ahead and I guess the discussion is getting a little heated. Then, what seems to come from outta nowhere, Jesus kinda repeats what we can find in Jeremiah 5:21, "Hear this, O foolish and senseless people, who have eyes, but see not; who have ears, but hear not." Wha? But after reminding them of the feeding of 5,000, the 4,000, the baskets of broken pieces, Jesus will ask them, "Do you not yet understand?" (Mark 8:21)
So here are 12 guys "discussing" the lack of bread of bread in earshot of the One who said, "Egó eímai o ártos tis zoís" (I am the bread of life) just a recorded miracle or two ago. I wonder if Jesus rolled His eyes once in awhile listening to His 12 ordinary men "discuss" stuff? Anyway, there was something that they didn't understand and it kinda goes like this…if you say you know who Jesus is but you don't know why He came, then you don't know who Jesus is.
After the blind man was healed by two touches and warned not to go back to the village he came from, Jesus and His disciples head to Caesarea Philippi. Along the way He'll ask two questions, "Who do people say that I am?" and "But who do you say that I am?" It'll be Peter who says, "You are the Christ" then Jesus will warn them to not tell anyone about Him. Now my question in all this is why are things going in series of two's? Two touches, two miracles about bread, two questions about who He is and the blind who sees men like trees, well he and Peter can't tell anyone anything about what they just discovered about Jesus…so what is up with this teaching?
I think we'll find it as we move along in Mark 8:31-32. Jesus plainly states what the Son of Man must do…. suffer many things, be killed and rise again after three days. Now this leads Peter to take the Second Person of the Godhead and tell Him that His theology is wrong. Ya can almost hear Peter say, "Umm Jesus, this might be a good idea to You but You're wrong" now this leads to that infamous verse, "Get behind Me, Satan; for you are not setting your mind on God's interests, but man's" (Mark 8:33b). And the crux of the biscuit… "If anyone wishes to come after Me, let him deny himself, and take up his cross, and follow Me" (Mark 8:34b).
Ya see, it's all good when we read about Jesus performing miracles, rebuking religious leading wanna-be's and being a friend when we need comfort but when it comes time for us join Jesus and actually take up our cross, we may rebuke Him like Peter did.
The miracle of the two touches reveals that, for some of us, it'll take a little bit before we get what our actual role is as followers of Jesus. And until we get that we need to be careful how we go back into our villages and tell people about what Jesus has done for us. We need to understand fully why we came so we can fully understand why we know that Jesus saves. It is good to say that Jesus died on the cross as a ransom for your sins BUT it'll glorify Him more when you've said it as your cross is at your shoulder. "I have decided to follow Jesus, no turning back, no turning back," Amen?
Written by Chris Hughes: Chris, a graduate of The Colony of Mercy (11-2003) has been married for 25+ years (Kathy), has a married son (Kevin) and a daughter in college (Karen). He has been a Freedom Fighter contributor since 2008.
The Daily Bible Reading: Jeremiah 49-50| You can download our 2018 Daily Bible Reading Plan by clicking here
Daily Quote: "The man with a cross no longer controls his destiny; he lost control when he picked up his cross. That cross immediately became to him an all-absorbing interest, an overwhelming interference. No matter what he may desire to do, there is but one thing he can do; that is, move on toward the place of crucifixion." — A.W. Tozer
This Week's Verse to Memorize: For surely there is a hereafter, And your hope will not be cut off. ~Proverbs 23:18