The Valley of Baca
Posted on May 31, 2018 by America's Keswick in Victory Call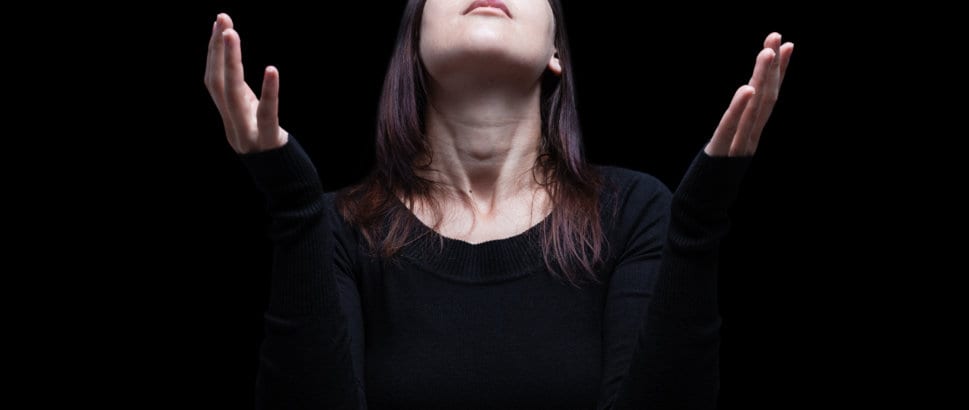 Happy are those who are strong in the Lord, who set their minds on a pilgrimage to Jerusalem. When they walk through the Valley of Weeping (Baca), it will become a place of refreshing springs, where pools of blessing collect after the rains! (Psalm 84: 5-6 NLT)
I often feel as if the Valley of Weeping is where I live, not somewhere I am just passing through.  The pain of destructive marriages and of children in addiction has been a part of my life for a long time. The pain of watching my husband suffer for the past 5 years with a debilitating and deadly disease drills into me every day.
The ancient Israelites walked through difficult, dangerous, and dry land on their pilgrimage to Jerusalem.  We also walk through difficult, dangerous, and dry places in our lives.  Verse 6 of this Psalm talks about walking through the Valley of Baca.  This name did not mean anything to me until I read that it could be translated "The Valley of Weeping."  I could certainly relate to that!
The image is that God turns our salty tears into springs of fresh, refreshing water that nourishes us and those around us.  Tears of pain, hurt, rejection, and anger could become bitterness that poisons us and others around us, but God can make those tears become a fresh spring, a pool of blessing.  How can that be?
God has changed my perspective on the Valley of Weeping. A friend of mine has shared with me the quote "In acceptance there is peace" many times. That peace comes from discovering the following truths:
Knowing our identity in Christ.  We are pure and lovely in His sight.  We are His daughters, His princesses, deeply loved and treasured, no matter what our past decisions and failures were. He loves us exactly as we are because it is the righteousness of Jesus that Father sees in us, not our own. We are clean and holy because Jesus is clean and holy. We can never earn His love by being "good," but the beauty of it is that we don't have to. For those of us who were raised to think that we had to perform to earn love, that we had to keep trying and trying to reach the point where He wouldn't be disappointed in us, only to fail time after time after time, this is freeing beyond belief!  Zephaniah 3:17 says that He sings over us with joy. In the same way that He created each snowflake to be unique, He created us to be who we are, each one a work of art to Father. This world is full of pain but our story doesn't end there.  True joy comes from a love relationship with God who sacrificed His Son in order to have you be a part of His family.  He loves you that much!
Knowing we can't deal with life in our own strength.  Verse 7 talks about going "from strength to strength."  God's strength is the source of our strength.  Joy comes when I surrender "my claim to my right to myself" (Oswald Chambers) and recognize that it has to be Christ living His life through me: I have been crucified with Christ. Nevertheless, I live.  Yet not I, but Christ lives in me.  And the life which I now live in the flesh, I live by the faith of the Son of God, who loved me and gave Himself for me (Galatians 2:20).  We have the privilege of exchanging our fearful, frantic, fragile life for Jesus living His life in us and through us.  That is a great deal!
Knowing that Father is intimately aware of our situation and cares deeply about it. Not only does He know about it, He uses it to grow us into the person He wants us to be. I would not be the person I am today if I had not gone through the things I have gone through. I also would not be able to empathize with mothers who have children in addiction in the same way if I had not experienced it myself. I would not be able to work with women in abusive marriages in the same way that I can if I had not experienced abuse. I know their pain firsthand.
In Hannah Hurnard's classic book Hinds' Feet on High Places, the main character Much-Afraid has chosen to leave the Valley of Humiliation and go with the Shepherd to the High Places. The Shepherd gives her two companions to go with her on her journey, Sorrow and her twin sister Suffering.
"Poor Much-Afraid! Her cheeks blanched and she began to tremble from head to foot.  She felt so like fainting that she clung to the Shepherd for support.
'I can't go with them,' she gasped. 'I can't! I can't! O my Lord Shepherd, why do You do this to me? How can I travel in their company? It is more than I can bear. You tell me that the mountain way itself is so steep and difficult that I cannot climb it alone. Then why, oh why, must You make Sorrow and Suffering my companions? Couldn't You have given Joy and Peace to go with me, to strengthen me and encourage me and help me on the difficult way? I never thought You would do this to me!' and she burst into tears.
A strange look passed over the Shepherd's face as He listened to this outburst, then looking at the veiled figures as He spoke, He answered very gently, 'Joy and Peace. Are those the companions you would choose for yourself? You remember your promise, to accept the helpers that I would give, because you believed that I would choose the very best possible guides for you. Will you still trust Me, Much-Afraid? Will you go with them, or do you wish to turn back to the Valley, and to all your Fearing relatives, to Craven Fear himself?'
Much-Afraid shuddered. The choice seemed terrible.  Fear she knew only too well, but Sorrow and Suffering had always seemed to her the two most terrifying things which she could encounter. How could she go with them and abandon herself to their power and control? It was impossible. Then she looked at the Shepherd and suddenly knew she could not doubt Him, could not possibly turn back from following Him; that if she were unfit and unable to love anyone else in the world, yet in her trembling, miserable little heart, she did love Him. Even if He asked the impossible, she could not refuse."
As in this allegory, we also need to trust our Shepherd's wisdom and higher purposes. Joy and Peace will join us on our journey as we live in the sustaining grace of our Shepherd.
Knowing that we can trust God to work in our situation.  We are incapable of controlling other people and the situations around us.  When we finally come to the place of understanding that fact, we are free to accept and trust God's working in our lives.  Our pain and struggles can be used to refresh others as they see the beauty of Jesus in us.
May these discoveries encourage you whenever you face the "Valley of Baca" seasons of your life. God's faithfulness will refresh you with His pools of grace and hope.
For the Lord God is our light and protector.  He gives us grace and glory.  No good thing will the Lord withhold from those who do what is right (Psalm 84:11)
Written by Cherri Raws Freeman. Cherri Raws Freeman is the author of the book Beside Still Waters: Discovering Peace in the Midst of Your Child's Addiction. She and her husband Joe, a graduate of the Colony of Mercy, founded Love Them to Life, a support ministry for mothers of addicts. Cherri is  a graduate of Wheaton College and the mother of 5 adult children, 2 of which struggled with addiction issues.