One Thing I Desire
Posted on June 30, 2016 by Graeme Wilson in Victory Call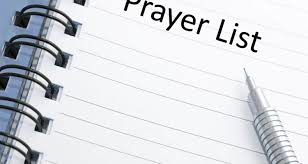 Though an army may encamp against me,
My heart shall not fear;
Though war may rise against me,
In this I will be confident.
One thing I have desired of the LORD,
That will I seek:
That I may dwell in the house of the LORD
All the days of my life,
To behold the beauty of the LORD,
And to inquire in His temple.
Psalm 27:3-4
Can we with the Psalmist say, "One thing I have desired of the LORD,"?
When I look at my prayers I think it would be more accurate to say, "one OF the things I have desired of the Lord" because so often my prayers boil down to a long grocery list of the many things I desire of the Lord. That approach to prayer can lead to a view of God as if He is there to do MY bidding.  Are your prayers God-focused or you-focused?
Look carefully at the Psalmist's words, "In this I will be confident."  What? Who?  The Lord.  The circumstances that could overtake him [an army encamped or war] faded in comparison to what held his confidence.
My question a moment ago, "Are your prayers God-focused or you-focused?" was not to imply that we should not ask for things that concern us. Not at all.  But that should not be ALL we include in our prayers.
First, notice the Psalmist desires to be in the presence of God: "That I may dwell in the house of the LORD."  You don't have to camp out in the back of church to be in the presence of God continually.  In truth, you cannot NOT be in His presence. "Where can I go from Your Spirit? Or where can I flee from Your presence? If I ascend into heaven, You are there; If I make my bed in hell, behold, You are there." Psalm 139:7-8
We are continually in His presence and as His child His Spirit is continually dwelling within us.  We often lose sight of that truth.  It would do us all well to practice being aware of His presence moment by moment.
Second.  He desires to "behold the beauty of the LORD." In addition to being in His presence he desires to meditate on the Lord, to gaze upon Him and be enamored with Him over and over again.  How much time do you spend looking into the face of your Savior every day?  Rehearse who He is. Allow those thoughts to linger.  Just the thought of that makes me smile.
Third. The psalmist desires to "inquire in His temple." Pray. Ask.
After consciously bringing ourselves into the presence of God and meditating on Him, beholding Him, bring your concerns and requests before Him.  The focus is on Him, not on circumstances and stuff.  We reorient our perspective.  This God-centered perspective gives us confidence in HIM as we face the future.
The Psalmist says, "My heart shall not fear."  What sayeth thee?
Blessings, Diane
Diane Hunt served for 16 years on the staff of America's Keswick until recently when she and her husband relocated to North Carolina. She now continues serving as a contributing writer and Partner Care consultant. Diane is also a Biblical Counselor, speaker, teacher, and author. She delights in the opportunities she has as a women's conference and retreat speaker to share from God's word.  Many of her illustrations are drawn from her relational experiences as a wife, mother, and mema. They are the very relationships that bring her the greatest joy and the most fun!