REGISTRATION WILL OPEN END JANUARY 26th @ 8 AM
** PLEASE NOTE: The registration page is password protected until registration opens on 1/26/23 at 8
AM**
Spring semester 2023 will begin in Feb. 1st – April 19th: 1st and 3rd Wednesday of every month from 10:00AM – 4:00PM
America's Keswick wants to partner with homeschooling families and offer extracurricular classes! There are several classes being offered for ages 5-18.
Registration Tips:
Please respect the class ages.  Your child is eligible for the age group they will be in on the first day of class.   We do reserve the right to ask for age verification.  As always if your child has special needs or a disability, we are happy to offer a team review to make sure they are placed in classes that will be most beneficial for all.
Please only sign your child up for one class per hour.
If the class you would like is full, keep trying throughout the day, as sometimes class spots are held in other's shopping carts.
If you are unable to get a spot in a class, please follow this link to be added to the class waitlist.  https://forms.gle/gTeQjE6hMXM8ZPue6
If your child is unsure about a class, or that is not the one they really wanted.  Take a chance, we have heard many stories of the "unwanted class" becoming the students favorites.
If your having trouble with registering you can message me at https://forms.gle/gTeQjE6hMXM8ZPue6
 
Pricing:
We are offering 2 different pricing packages.
Option 1: $50 Family Ko-Op/Facility Registration and $12 Per Class Registration
Option 2: $50 Family Ko-Op/Facility Registration and $150 Unlimited Family Class Registration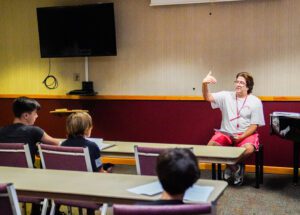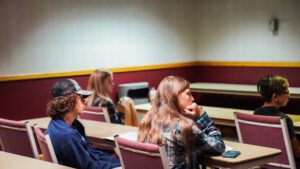 Classes:
Kiddos For Christ Ages 3&4 
Kiddos For Christ Ages 5–7
Mrs. Miracle Torregrossa
An hour of singing, crafts/coloring and a Bible story.  Please supply a snack/drink for your child.
Cake Decorating Ages 5-7
Mrs. Andrea Herbert
Hands on cooking and dessert class.
Poetry Ages 5-11
Mrs. Hollie Lafrenier
Gym Class Ages 5-7
Gym Class Ages 8-11
Mr. James Serpico
Physical fitness is extremely important to sustaining a healthy lifestyle. In this day and age, with most things available at the press of a button, the significance of studying and implementing fitness in our lives looks to be trending in the wrong direction. This class will provide students with the opportunity to both learn about and practice physical fitness through a variety of fun and exciting games, challenges and activities.
Art Class Ages 8-11
Art Class Ages 8-11
Please
Only
Sign Up For 1 Time Slot
Mrs. Janet Frederikson
My classes will concentrate on the basics of drawing, skills of observation and techniques using shapes, shadows and shading along with  lots of practice….all using examples of still life through objects, forms and photos! Drawing is more than just simple lines! Towards the end of the semester we will experiment with watercolor painting some of our completed drawings!
Science Ages 8-11
Mrs. Rosalia Tisch
Learn chemistry through hands-on experiments.
Multiplication Math Games Ages 8-11
Mrs. Alexis Jaeger
Practice and strengthen multiplication facts with new songs and fun games each week as we try to help everyone master the facts all the way up through 10 and learn some tricks along the way.
LEGO Class Ages 5-7
LEGO Class Ages 8-13
Mrs. Jen Bock
This will be a fun class focused on challenging your children's imagination to think creatively and objectively. Working independently to problem solve and to problem solve cooperatively In small groups! One of my focuses will also be to teach your children how to present their creations to a group and how to be courteous as other children present their creations.

**8-13 class will also work on making stop motion videos. 

Side note:(You are never too old for LEGOS!!)
Supplies needed- Children need to bring an assortment of LEGOs with them to every class. This could be as simple as putting their favorite bricks in a shoebox or you could order this classic Brick set off of Amazon to get you started! https://www.amazon.com/dp/B00NHQFA1I/ref=cm_sw_r_sms_c_api_i_6J.7CbDNGXRAN
Basic ASL American Sign Language Ages 8-13
Mrs. Michelle Barsch
This class is open to students with no prior ASL exposure. The purpose of the class is to bring awareness to the language of ASL through games and engaging activities. Students will learn some basic vocabulary and basic conversational sentences in ASL.

**This is a VOICE OFF class. Students will be expected to abide by that rule**
Book Club Ages 5-7
Book Club Ages 8-11
Book Club Ages 12+
Mrs. Anna Holland
Does your child love to read?  Does your child hate to read?  This is the class for them!  Students will be assigned weekly reading.  Come to class for teacher-led questions and discussions.
Bucket Drums Ages 10-13
Mrs. Joyce Ciotta
Drama Class Ages 12+
Ruth Schmidt
German 101 Ages 12+ 
Mr. Maurice Grillon
German 101 is an academically rigorous course. It is designed for students with no previous experience in the language. The course focuses on communicative skills of listening comprehension, speaking, reading, and writing. Includes high frequency vocabulary, basic constructions, common phrases, and cultural aspects. It also stresses student participation in skills development. Students will earn a grade that will be determined by attendance, class participation, homework, quizzes, and a test. Keeping an organized notebook and having access to Duolingo as a mobile app or via a laptop/desktop is required.
Nutrition/Fitness Ages 12+
Mr. Jim Serpico
Truly appreciate the food you eat and the gift of life. Students will have the opportunity to gain an understanding of the relationship between food, our neighbors, our planet and our bodies and how they all relate to nutrition and fitness. What is health? What is healthy? What is too much? What is too little? Food definitions? Balance? Essential nutrients? These topics and more will be covered in this class to help you experience food and fitness as the gifts from God that they truly are.
Philosophy Ages 12+
Mr. David Brown  
Philosophy with a Biblical viewpoint.
Fundamentals Of Graphic Design Ages 12+
Mrs. Alicia Ferrara
This class will give students a good foundation of what graphic design is and how it's used. They will learn a variety of design principles (i.e. contrast, hierarchy, balance, alignment, color, composition, typography, etc.). Students will learn to mind-map creative ideas and put learned principles in practice to make their own designs, like logos, posters, business cards, etc. They will learn to engage in guided and constructive peer review of work. And although computers are highly used in the industry, they will not be needed for this class. Students will learn that a computer is just a tool and this class will focus on how to successfully use design principles before bringing a design to a computer. A sketchbook is needed for this class.
Makeup & Inner Beauty Ages 12+
Mrs. Mariam Nieves
In this girl's class, students will be focused on finding their inner beauty and identity in Christ, paired with basic makeup techniques from a professional cosmetologist to highlight natural beauty.
Genesis Origins Ages 12+
Mr. Tim Wacker 
Reasoning and working through key points of the book of Genesis.  Great foundational learning.
Math Tutoring Ages 12+
Mr. Tim Wacker 
Students will bring their math work and Tim can help them understand the concepts.
Cooking & Baking Ages 12+
Mr. Rob Breault
Cooking and baking class.
Real Manhood Ages 15+ 
Mr. Matt Mazza & Mr. James Serpico
Sex Drugs & Rock and Roll, the makings of a real man?  An honest discussion and testimonies about growing up in today's culture.
Human Body Systems 8-11 (15 Students)
Human Body Systems 12+ (15 Students)
Mrs. Caitlyn Kraszewski
Join us for an overview of the body systems. We will discuss the skeletal, muscular, nervous, digestive, respiratory and circulatory systems. Class will include hands-on activities and experiments as we learn about the complex wonder of our created bodies!

Extras (Available to all parents and children)
Home Room 
A place to set your stuff down and relax.  Bring a book, bring the math your child still needs to work on, or just let the little ones play till the pool is open!   
The Pool 
Open from 1-4 PM.  
Children 12 and under must be accompanied by an adult in the pool area at all times.  No 2 piece bathing suits allowed.
Playground and nature trails 
When the weather is nice take advantage of the children's playground and nature trails that wrap around the beautiful Keswick lake.  
Chapel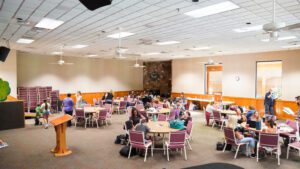 Property Rules and Regulation
Children 5-7 must be signed in and out of class by an adult
Children under 12 are required to have a parent present in the pool area at all times
No 2 piece bathing suits
Parents are not permitted to leave the property while their child is in attendance
Parents are responsible to be aware of, and know where their child is at all times
At least 1 class registration is required for family attendance
All attendees on the property are required to be registered
Pool wristbands will be handed out each class day at 11:45
The pool will be closed for the month of December for maintenance.
Announcements will be made each week during chapel.  We encourage all to attend chapel each day at noon.
Covid Regulations
Regulations are subject to change in accordance with government guidelines.

America's Keswick facilities and conference center is thankful for the opportunity to reach out to the local community.  The heartbeat of America's Keswick is to support and continue the addiction recovery ministry at The Colony of Mercy and Barbara's Place.  With the onset of this pandemic, drug use, alcoholism, and drug overdose has been destroying lives and families at an increasing rate.  The Colony of Mercy and Barbara's Place has been a light in this darkness for over 123 years.  Maintaining certain regulations allows this to continue.

Pool access may be limited by capacity regulations
 Any questions? Click here.