America's Keswick Homeschool Ko-OP!
REGISTRATION WILL OPEN ON SEPTEMBER 9th AT 8AM!
Click here to register!
Schedule: 1st and 3rd Wednesday, September 21st – December 7th 10:00am – 4:00pm
America's Keswick wants to partner with homeschooling families and offer extracurricular classes! There are several classes being offered for ages 5-18.
Any questions? Click here.

Pricing:

 
We are offering 2 different pricing packages.
Option 1: $50 Family Ko-Op/Facility Registration and $12 Per Class Registration
Option 2: $50 Family Ko-Op/Facility Registration and $150 Unlimited Family Class Registration
FULL CLASS LIST:
Recorder Karate Ages 8-11 (15 Students)
Joyce Ciotta
Your child will learn music and the recorder.  While leveling up belts!
Bell Choir Ages 10+ (12 Students)
Cindy Jones
Learn music and be part of a bell choir.
Cooking Class 8-11 (15 Students)
Cooking Class 8-11 (15 Students)
Andrew Barsch
Your student will learn different cooking styles and techniques.
Book Club 5-7 (15 Students)
Book Club 8-11 (15 Students)
Book Club 12+ (15 Students)
Anna
Does your child love to read?  Does your child hate to read?  This is the class for them!  Students will be assigned weekly reading.  Come to class for teacher-led questions and discussions.
The Thinking Toolbox: How to recognize bad reasoning. 12+  (30 Students)
Maurice Grillion
Teens will encounter many fallacious arguments both in their youth and as they grow into a fully adult world. From billboards to college professors to politicians, false types of arguments are used everywhere. Learn to discern what arguments are valid and which are not.  Students will learn to recognize the fallacies they see every day, including the Red Herring, Ad Hominem attacks, the Straw Man, loaded questions, equivocation, circular reasoning, either-or, generalizations, analogies, propaganda, slippery slope fallacies, and more.
Gym Class Ages 5-7 (25 Students)
Gym Class Ages 8-11 (25 Students)
Physical fitness is extremely important to sustaining a healthy lifestyle. In this day and age, with most things available at the press of a button, the significance of studying and implementing fitness in our lives looks to be trending in the wrong direction. This class will provide students with the opportunity to both learn about and practice physical fitness through a variety of fun and exciting games, challenges and activities.
Nutrition/Fitness Ages 12+ (25 Students)
Jim Serpico
Truly appreciate the food you eat and the gift of life. Students will have the opportunity to gain an understanding of the relationship between food, our neighbors, our planet and our bodies and how they all relate to nutrition and fitness. What is health? What is healthy? What is too much? What is too little? Food definitions? Balance? Essential nutrients? These topics and more will be covered in this class to help you experience food and fitness as the gifts from God that they truly are.
Art Class Ages 5-7  (12 Students)
Art Class Ages 8-11 (12 Students)
Give your student an opportunity to draw, color and paint in our Keswick Ko Op Art Classes.
Nature Science Ages 5-7 (12 Students)
Nature Science Ages 8-11 (12 Students)
Keleen Grillion
Romans 1:20 states "For since the creation of the world God's invisible qualities – His eternal power and divine nature – have been clearly seen, being understood from what has been made, so that people are without excuse."  In this nature-based class we will look at God's magnificent creation to learn more of His character and love for us!  The class will include a short nature – related devotional, exploratory nature walks to view God's creation up close, and guided nature journaling to record and document our findings.  This class is for anyone who would like to sharpen their observation and nature journaling skills.

Materials needed: Notebook or sketchbook, pencils, colored pencils, crayons, markers.
Philosophy 12+ (15 Students)
David Brown  
Philosophy with a Biblical viewpoint.
Crochet Ages 5-7 (10 Students)
Crochet Ages 8-11 (10 Students)
Lauren Fletcher
Does your child love to crochet, or want to learn?  This is the class for them.  Learn basic to advanced techniques.
Poetry Ages 5-11 (12 Students)
Hollie Lafrenier
Photography Ages 12+ (12 Students)
Jason Schack
In this class we will learn about optimizing your cell phone to take better pictures. We will also learn about editing the photos you take. We will have outdoor workshops during our class time, so be sure you dress appropriately for the weather.

Photo Capable Cell Phone Required
Math Games Ages 5-7 (12 Students)
Alexis Jaeger
Learn math while playing fun games
Teaching Special Needs 
Lynn Wilson
This class is designed to help and assist parents/guardians who have children they want to homeschool with any type of special needs.  I am a homeschool parent of both average and special needs with homeschooling experience for over 25 years.  I have homeschooled special needs and I have learned some skills and tips that I will share with you on the following areas:

What curriculum should I use?
Do I teach my special needs child like I would any other child?

What if my child has attention disorders…how do I teach them?

What if my child has trouble writing…how can I teach them?

Where do I even begin to homeschool a special needs child?

Will my special needs child benefit from homeschooling?

And more… There will be some guidance given and plenty of time for Q&A questions for us to share with each other and learn from each other too.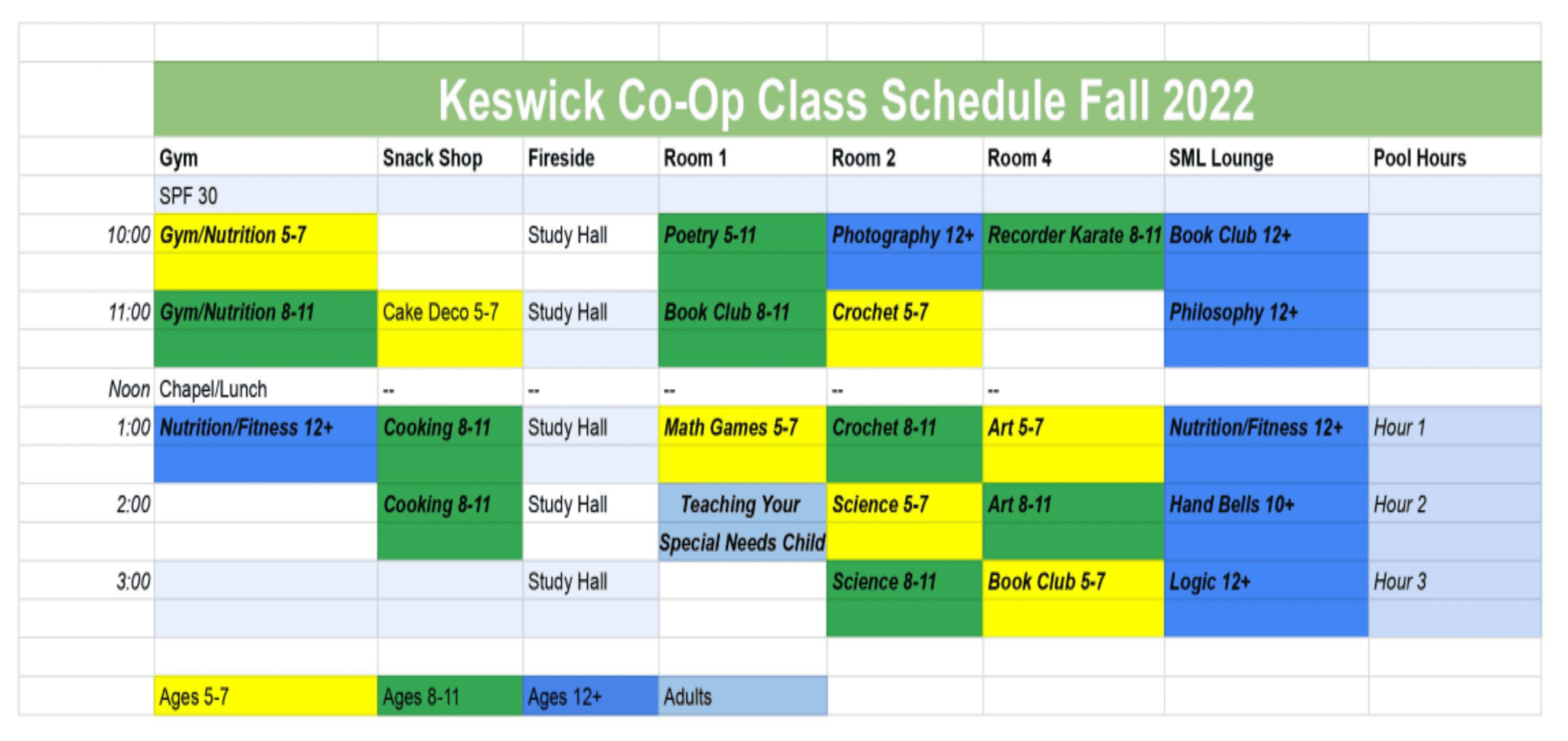 Extras (Available to all parents and children) 
Home Room 
A place to set your stuff down and relax.  Bring a book, bring the math your child still needs to work on, or just let the little ones play till the pool is open!    
The Pool 
Open from 1-4.  
Children 12 and under must be accompanied by an adult in the pool area at all times.  No 2 piece bathing suits allowed.
Playground and nature trails 
When the weather is nice take advantage of the children's playground and nature trails that wrap around the beautiful Keswick lake.  
Chapel
Property Rules and Regulation
Children 5-7 must be signed in and out of class by an adult

Children under 12 are required to have a parent present in the pool area at all times

No 2 piece bathing suits

Parents are not permitted to leave the property while their child is in attendance

Parents are responsible to be aware of, and know where their child is at all times

At least 1 class registration is required for family attendance

All attendees on the property are required to be registered

Pool wristbands will be handed out each class day at 11:45

The pool will be closed for the month of December for maintenance.

Announcements will be made each week during chapel.  We encourage all to attend chapel each day at noon.
Covid Regulations
Regulations are subject to change in accordance with government guidelines.

America's Keswick facilities and conference center is thankful for the opportunity to reach out to the local community.  The heartbeat of America's Keswick is to support and continue the addiction recovery ministry at The Colony of Mercy and Barbara's Place.  With the onset of this pandemic, drug use, alcoholism, and drug overdose has been destroying lives and families at an increasing rate.  The Colony of Mercy and Barbara's Place has been a light in this darkness for over 123 years.  Maintaining certain regulations allows this to continue.

Pool access may be limited by capacity regulations
 Any questions? Click here.