America's Keswick Campus Facilities
Recreation
FREE Coffee Available 24 Hours a day!
Our free coffee machine is located in our Raws Memorial Vending Room.
Some of the finest facilities on the East Coast at an affordable rate.
Indoor Recreation:
Is it too cold out? Too hot? Stormy? Snowy?! (Yikes!) Don't worry – you can have just as much fun using our indoor facilities as you can outside. We have a whole building dedicated to FUN, with many different types of rooms you can utilize.
competition-size indoor heated swimming pool
Jacuzzi and sauna
children's pool
Bounce House – Fee May Apply
Archery Tag – Fee May Apply
weight and fitness room
racquetball/wallyball courts
extra large gymnasium for basketball, volleyball, indoor tennis, ping-pong, and shuffleboard
Outdoor recreation:
Nothing beats a warm, sunny day at America's Keswick. We have so many activities you can do outdoors, whether it be a leisurely one or a high-energy sport. You'll enjoy every minute of your time here. PLUS, during our summer months, we have fun scheduled activities such as a GIANT Slip-n-Slide, Digital Scavenger Hunts, Outdoor Water Games, and more.
paddle boating, kayaking, and canoeing on the Upper Lake
swimming and beach fun at the Upper Lake
GIANT Water Inflatable at the Upper Lake
tennis, horseshoes, bocce, basketball, shuffleboard
Nature trails for hiking or strolling
playground for children
frisbee golf
beach volleyball
Digital Scavenger Hunt – Click HERE to Download NOW 
Relaxing Activities:
take a stroll around the lake
follow the nature trails
find a bench to relax on and read
fishing in our two scenic lakes
---
Activity Center Hours: Varies on the day of week and group activity.
Indoor Pool: Pool is open during regularly scheduled lifeguarded hours. Specially arranged hours are only available if you are the only group on the property.
Friday 9-10:45pm / Saturday 2-5pm and 9-10:45pm
Midweek Hours are: 2-5pm and 9-10:45 pm
Day Trips
Guest Services can supply you with a list of available places and directions if you would like to sightsee at your own leisure.
Jenkinson's Aquarium  (Point Pleasant Beach, NJ)
Barnegat Lighthouse State Park (Barnegat, NJ)
The Beaches of Ocean County, NJ
Six Flags Great Adventure (Jackson, NJ)
Blackbeard's Cave & C.B. Huntington's Restaurant (Bayville, NJ)
The Strand Theatre (Lakewood, NJ)
Campfires
A campfire pit is located near the beachfront area. Please notify a Guest Services representative if you are interested in booking this activity during your stay. Campfires are available on a first-come, first-served basis with the other guests that are scheduled during your retreat dates. Campfires are usually available May 1 – October 31, weather permitting. You may reserve one two-hour slot during your stay.
 Campfires may be cancelled if the county bans fires due to drought conditions
We will take care of setting the campfire up and getting it started. All campfires will be put out by 11 PM by our housekeeping staff.
Click Here to learn more about Retreat Packages!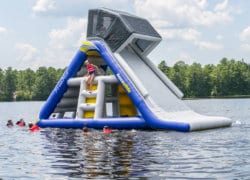 Nothing beats a warm, sunny day at America's Keswick. We have so many activities you can do outdoors, whether it be a leisurely one or a high-energy sport. You'll enjoy every minute of your time here. PLUS, during our summer months, we have fun scheduled activities such as a GIANT Slip-n-Slide, Digital Scavenger Hunts, Outdoor Water […]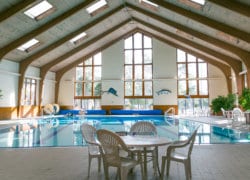 Is it too cold out? Too hot? Stormy? Snowy?! (Yikes!) Don't worry – you can have just as much fun using our indoor facilities as you can outside. We have a whole building dedicated to FUN, with many different types of rooms you can utilize. competition-size indoor heated swimming pool Jacuzzi and sauna children's pool […]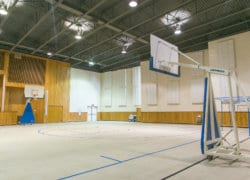 Extra large gymnasium for basketball, volleyball, indoor tennis, ping-pong, Archery Tag and shuffleboard